Have you had the feeling that you've seen the same content on Snapchat and Instagram? The majority of people you ask this question will answer no.
So why do advertisers use a different strategy for each social network?
Each social platform has its own culture, its own tone that sets it apart from the others. It's therefore essential to adapt your business' communication to what works best on each social network.
Having a firm understanding of this culture and these rules will help you better target your audience, and it's the best way to get ahead on social media.
Today, we're going to take a close look at Snapchat and see how you can manage your ad campaigns on the platform. Don't worry, though, we'll be doing the same thing for the other platforms, too, so you can become a pro at social media and help your sales take off.
What is Snapchat?
Snapchat was created by two Stanford students, Evan Spiegel and Bobby Murphy. Snapchat is the most-used social network in the world among under 24s. The platform aims to create lasting relationships between you and your target thanks to its self-destructing "Snaps" (photos and videos).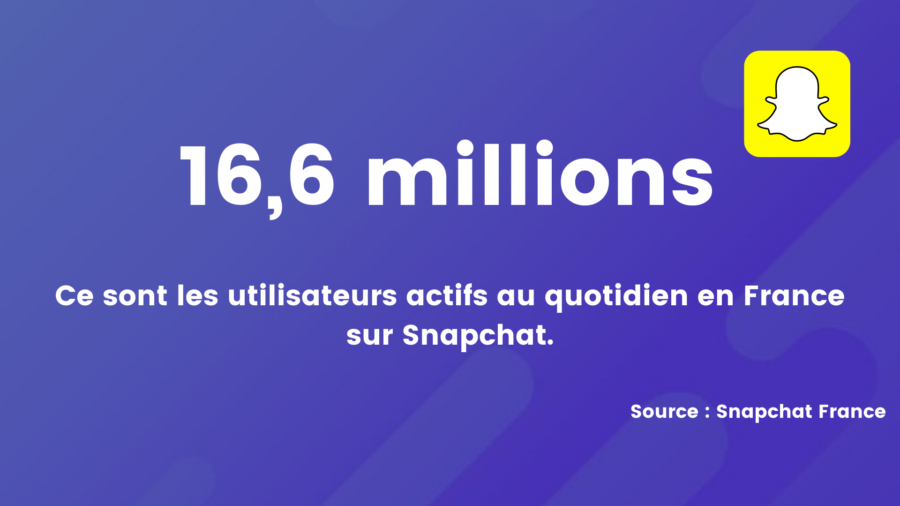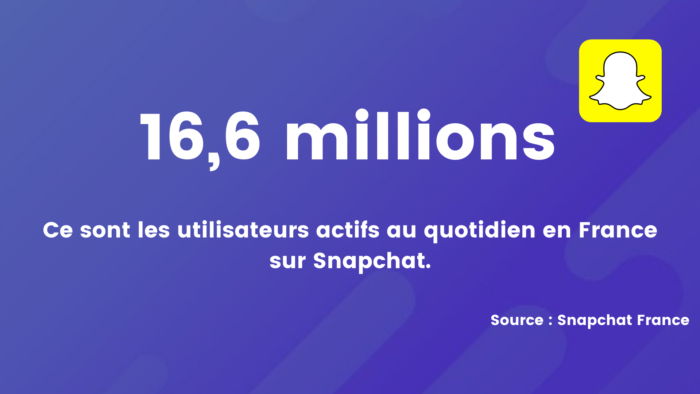 Nine out of ten Snapchat users are between the ages of 13 and 25, making Snapchat the platform of the younger generation. The app is entirely based around sharing, making it the perfect platform for communicating on a personal level with your target.
As you can imagine, understanding the platform is the only way to boost your ad campaigns. But how exactly does Snapchat work?
Snapchat is a company that's constantly reinventing itself, and every new feature is a new tool in your company's advertising arsenal.
Snapchat is all about spontaneity, thanks to its short-form video feature, and live video chatting. The ultra-personal approach enables companies to show their brands' authentic side.
Advertising on Snapchat has also undergone a transformation over time. Once beyond the realm of possibility for all but the highest budgets, now even the smallest of local businesses just starting out can advertise on Snapchat. This is all thanks to Snapchat's Self-Service Ad Manager.
Snapchat gives you three ways to advertise your brand on its platform.
Snap Ads
Have you ever seen videos of your favourite brands in your Snapchat timeline?

What is it?
These are ads that last between five and 10 seconds, mainly aimed at showing off new products and collections. Brands can use these alongside Stories showing the day-to-day life of the brand, influencers, and Snapchatters.
You can apply filters to Snap Ads to target consumers based on selection or segmentation criteria.
Why?
To incite Snapchat users to click on your website, install your app, or discover your products, for example.
These short videos make it possible to get a simple yet memorable message across in a fast and effective way.
This type of ad campaign is perfect for new startups because it's so simple to use.
Bonus: Why not create several videos to show the story behind your brand?
How can I launch a Snap Ads campaign?
You can buy advertising space through Snapchat with their ad manager.
GeoFilter
Are you organising a pop-up store or special event that you want to publicise? Why not create a bespoke GeoFilter?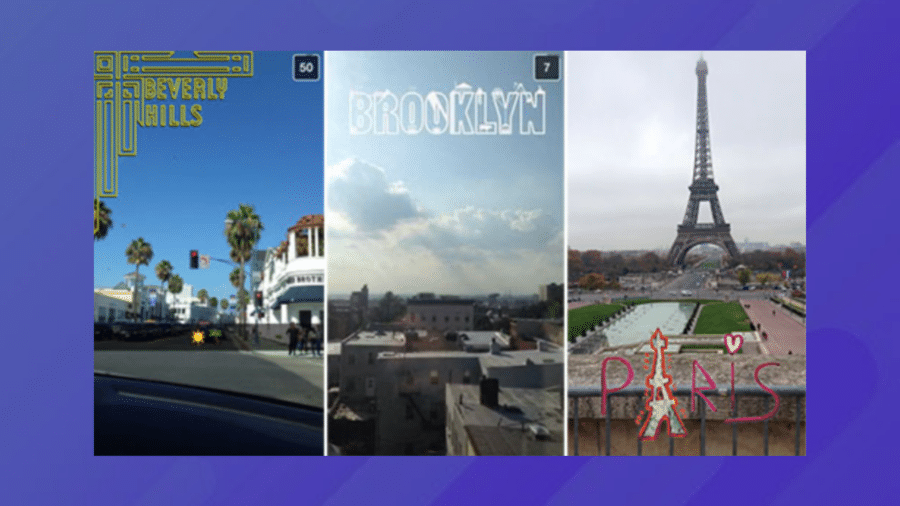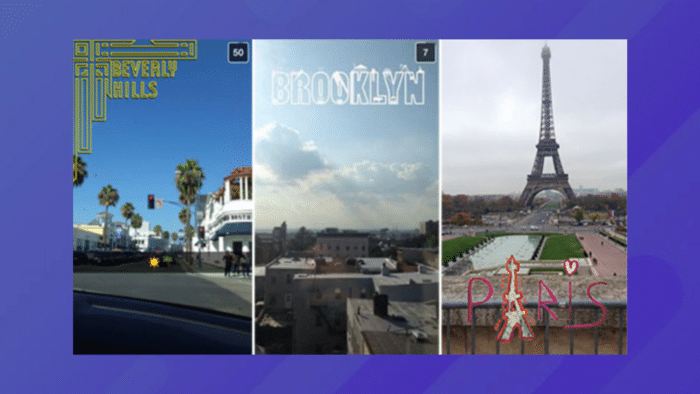 What's a GeoFilter?
A GeoFilter is a Snapchat filter that uses GPS positioning to only become available to users when they are within a pre-defined geographic area.
For example, if you want people in the immediate vicinity of your business to apply your bespoke filter and advertise your services, use a GeoFilter.
Snapchat users at your event or product launch will be able to use the filter on photos and videos they post to their followers.
Essentially, your target is widened by people in the area you define being able to publicise your business for you.
This piques the curiosity of potential new customers, who will want to find out more, and a simple snowball effect will lead more people to engage with your brand.
What's more, GeoFilters help you reinforce your brand awareness within your community and customer base. Snapchat's analysis show that coupling this feature with optimal consumer targeting can increase the likelihood of footfall for small businesses, attractions, and events that use it.
All this makes GeoFilters the most powerful communication tool, having racked up an impressive 2.16 billion daily uses. It's an excellent tool for creating your community and customer base and expanding your horizons.
How to get a GeoFilter
It couldn't be simpler. You can buy GeoFilters from the Snapchat team.
You can also make use of a Smart GeoFilter to associate your ad with specific places. When users open Snapchat in your selected area, your filter will become available for them to use.
You can also choose to create more on-demand GeoFilters, which are faster and cheaper. These filters only become available for a certain number of hours or days.
Lenses
You've probably seen the Snapchat selfie filters with love hearts above the head and cute backdrops. Well, these are what are called "Lenses".
Lenses let you play around with people's faces using augmented reality, enabling Snapchatters to interact with each other with 3D visual effects infiltrating the real world. Brands can use talented artistic directors to create their own exceptional visual worlds.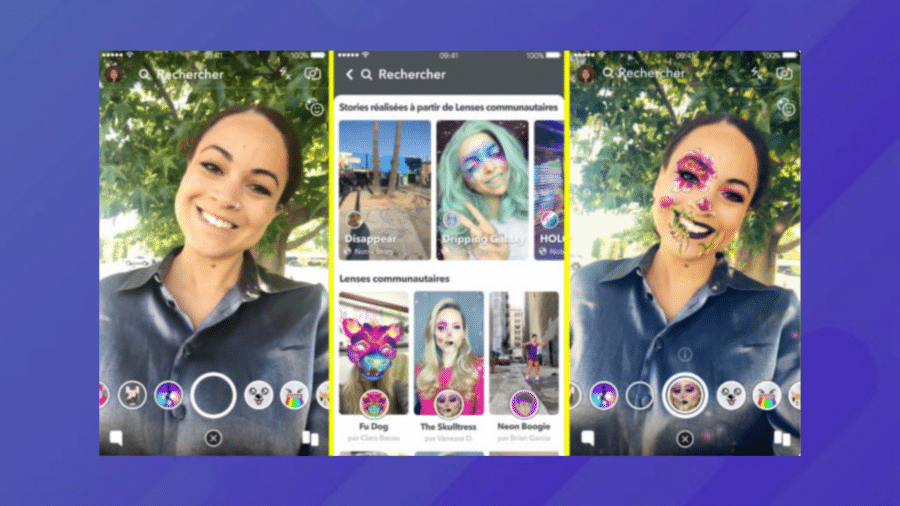 What are Lenses for?
According to Snapchat, 70 million users use them every day. So, Lenses make it possible to reach vast areas of the market and many thousands of Snapchatters.
It should be said, though, that this type of ad is generally only used by very big companies, because just the permission to publish a filter on the app can go for anything from 400k to 600k. Return on investment, though, is inevitable.
The ability to plan your goals around important events on your calendar will help you see things more clearly.
How do I get Lenses?
This type of ad can be purchased straight from the Snapchat sales team.
You can also use filters similar to augmented reality to enable users to interact with 3D graphics embedded in the world around them.
So, your choice of Snapchat Ads advertising campaign will be combined with social media reporting according to your monitoring parameters.
Don't forget to monitor your competitors, too! Inspiration for your own effective and powerful Snapchat Ads can only come from scrolling through other brands' content and keeping up to date with what works.
Want to launch your own Snapchat Ads campaign?
Neads is the Snapchat Ads partner for you!
Contact us now!