Since its launch, TikTok has grown exponentially, with over 1 billion monthly active users worldwide.
TikTok is even the second most downloaded application in the world in 2022, behind Instagram.
Due to its growing popularity, TikTok has become an increasingly serious competitor to Google.
Indeed, users spend more and more time on the application, on average more than 90 minutes per day (it's 2 times more than 3 years ago).
This results in an increase in the number of searches carried out on the platform, on various and varied subjects.
TikTok has also launched many advanced search features to help users find relevant content such as: hashtags, location, sounds or lives.
Moreover, TikTok regularly communicates on the strength of its search engine.
that feeling where you find what you were looking for…plus a bunch of other cool stuff you didn't even know you were looking for and now you're obsessed?? pic.twitter.com/VXkD8XQ90f

— TikTok France (@tiktok_France) February 12, 2023
The platform is now preparing to enter the market for search ads, similar to what we could find on Google ads or Bing ads .
TikTok is beta testing the feature Search ads to allow advertisers to position themselves on the search results of its platform.
This new advertising feature could provide new marketing opportunities for brands and advertisers.
In addition, the latter will have the possibility of reaching users with high purchasing intentions and interest in a specific product or service.
TikTok: A growing search engine
In recent months TikTok To greatly improved the functionality of its search engine.
So much so that it has now become a major asset for the platform.
Indeed, TikTok is said to be on the way to becoming the new search engine and aims to compete with Google in the long term.
According to the senior vice president of Google Prabhakar Raghavan : " 40% of generation Z prefer to do their research on TikTok or Instagram rather than on Google".
This new generation prefers more immersive and original content and that's what TikTok brings them with ever more attractive vertical videos.
It is in this continuity that TikTok has put set up an educational campaign last month.
One of the objectives was to highlight its search bar allowing "everyone to find content adapted to their desires".
Broadcast on metro platforms and bus stations, TikTok advocated its search engine through different approaches such as:
Find your next vacation destination on TikTok
Or discover new reading books.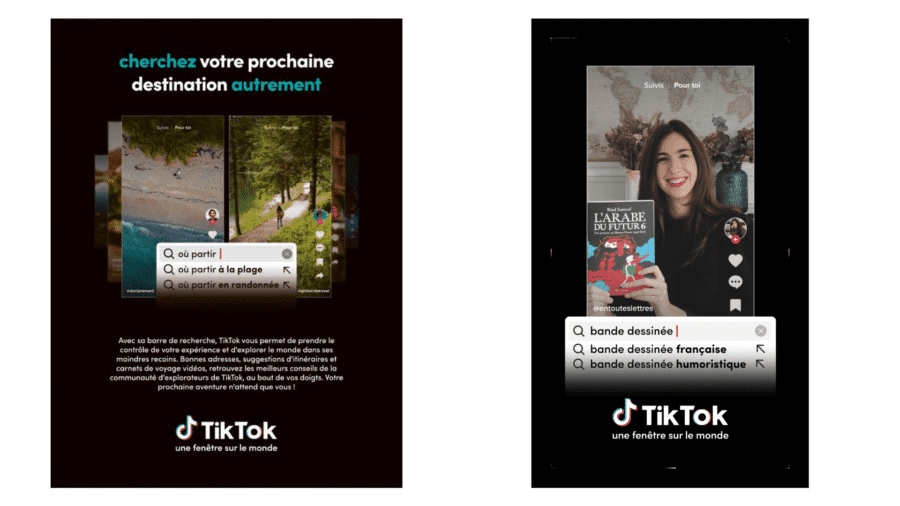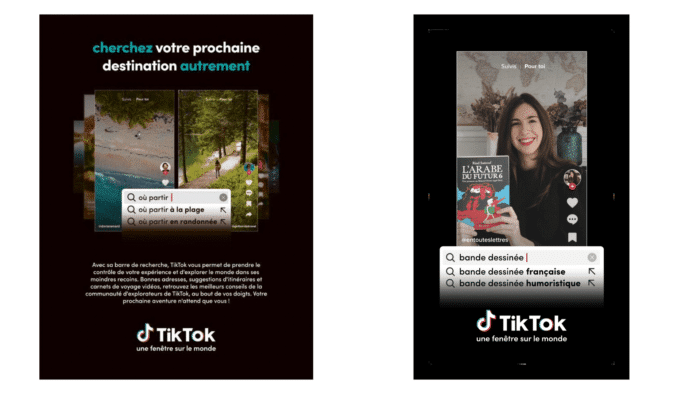 It is clear that through this campaign, TikTok seeks to strengthen the position of its search engine and to include it in the daily lives of users.
What is TikTok Search Ads?
Through the advanced development of its search engine, TikTok is also seeking to slowly but surely interfere in the paid search market in the same way as Google.
It is in this context that TikTok is beta testing a new advertising format " Search ads ".
THE Search ads TikTok is a new feature that may allow advertisers to show video ads in search engine results, depending on research intentions And keywords that users provide.
Like we show it David Hermann with this screenshot shared on Twitter.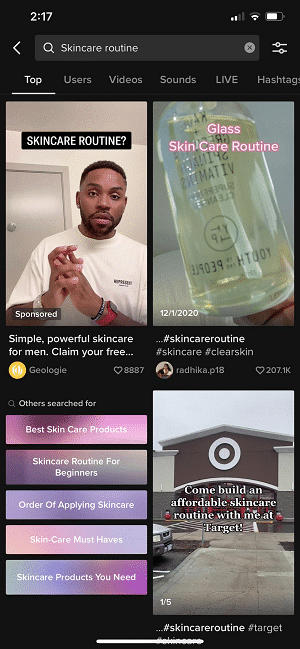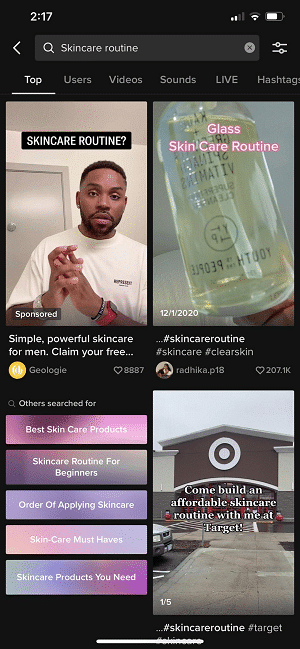 In this example, a video with the tag " Sponsored "appears in the first position of the video results on the keyword" skin care routine ".
It can be assumed that sponsored videos could appear in the first 4 video results of TikTok's search engine.
The announcements of Search ads TikTok currently appear to be similar to Google served ads ads to a detail close "the video".
This is because the ads are sponsored videos and not text ads.
These ads now meet next-generation consumer criteria.
Video is the format that converts the most, since it captures the attention of users and thus better disseminates a message.
It is now the most popular format for successful advertising campaigns on Facebook , instagram And Snapchat .

Search Ads TikTok: How does it work?
So far, nothing has yet leak regarding the operation of this new advertising format.
We imagine, however, that advertisers could bid on keywords to appear at the top of search results (m but this remains to be confirmed).
Currently, the different advertising formats available on TikTok ads are :
– Top View
– In Feed Ads
– Branded hashtag
– Branded Mission
– Branded Effect
All of these formats are served to users based on their interests, behaviors, demographics and more.
With the arrival of Search ads "TikTok offers new opportunities for advertisers, particularly for a low conversion funnel approach.
Brands could thus have better control of their campaign and above all even more precise targeting to reach people with high purchasing intentions.
It can be hypothesized that advertisers might have access to click and conversion data based on user search terms.
They can then optimize their campaigns and keywords accordingly.
This is particularly what David Herrmann points out on Twitter .
TikTok Search Ads: Can it really compete with Google Ads?
For now Google ads , remains the undisputed leader in paid search.
Nevertheless, one can imagine that TikTok could challenge Google on this subject for several reasons.
Young people tend to do their research on social networks rather than on Google

Video is the format that perfectly meets the consumer codes of this new generation.

Search

ads

coupled with other TikTok targeting methods, could offer more advantages to reach specific audiences
Brands could get much better ROI with this new

model

THE

CPM

are lower on TikTok than on others

platforms
The importance of optimizing your SEO on TikTok
SEO referencing is an essential point to succeed in positioning your videos in the first results of the Google search engine.
We talk more and more about TikTok SEO .
These are all the techniques that aim to properly reference a video on TikTok.
To succeed in SEO on TikTok, the following points must be applied in particular:
Optimizing your profile and bio

(with the right keywords)

Use the right hashtags in your videos to reach your audience

Fill in complete descriptions by inserting keywords (you can go up to 2200

characters

)

Use the right keywords in your titles and subtitles within your videos

Create episodes by themes on your profile to categorize your content

Use TikTok location

(if you are a convenience store, restaurant or shop)
All these elements are very important both for your organic referencing and for your future advertising videos broadcast via the Search ads .
Indeed, when the format Search ads will be available, it will of course be necessary for the search term entered by users in the search bar to be visible in the title of your video.
Waiting for the possible release of the format Search ads on TikTok, the team Neads supports you in the management of your campaigns on TikTok ads and in the creation of powerful videos.