In 2020, Instagram endowed itself with a new feature, Reels. Clearly inspired by TikTok, the short video format first met with some reservations before becoming very popular with users, brands, and influencers.
What is the Instagram Reel format?
Reels are short videos on Instagram (up to 90 seconds in 2022) which are displayed vertically and in full screen. They enjoy a very wide reach, as they appear:
In a specific tab within an Instagram account
In the feeds of users who follow the account
In the app's "Explore" section, which makes it possible for all users to see a Reel and not just followers of that account
Initially, Reels were launched in July 2020 to compete with TikTok, the Chinese app whose success can be pinned down to its short, musical, humorous, and engaging videos. The ambition is similar. With Reels, Instagram is hedging its bets on a flexible and viral format, encouraging shares and maximising content impact. This is a big opportunity for influencers!
Creating a reel on Instagram: steps and options
To create a Reel, all you need to do is click on the app's "+" button, which also allows you to add a post, story, or an IGTV video. Then, you select the "Reel" tool. To begin with, the editor enables you to start creating your short video from scratch, or to add an existing video from your gallery.
Then, you can customise your video with a wide array of effects and options:
Visual effects
Audio effects
Transitions
Filters
Speed management tools
Text
Hashtags
Stickers
And the editor also enables you to combine more than one video with the "align" tool.
These options, particularly the choice of soundtrack, are key for creating playful and engaging content. And influencers put all these tools to very good use! Once you've created your Reel, you can share it with the whole Instagram community. To maximise reach, Reels can both be shared and posted as stories.
What are the advantages of Instagram Reels?
Reels present many advantages for your brand or influencing strategy on Instagram. The format is short and impactful, with a high potential for engagement and going viral. Short videos are part of the top social media trends in 2022.
Increased visibility
Exposure is no doubt the primary argument for starting to publish Instagram Reels. Sharing Reels helps you appear not only in your followers' timelines, but also in the "Explore" tab, which opens you up to a far wider audience. Yes, the Explore tab favours content with a high engagement rate, but the advantage is that even small accounts get their chance to appear here. Appearing in Explore is a great opportunity to boost exposure and increase your follower count.
Targeting a wider and younger audience
Reels are quite a recent format, often seen by a different audience from that of posts and stories. Largely inspired by TikTok, they're generally popular with younger users who are very culturally aligned with short videos. Creating reels helps you capture the attention of an audience increasingly difficult to captivate with simple posts.
Giving a friendly, human tone to your communication
This dynamic format provides an opportunity to communicate in a warm and playful manner with your audience. More engaging and appealing than static posts, Reels enable you to form a casual and strong link with your followers, encouraging engagement and loyalty to your brand.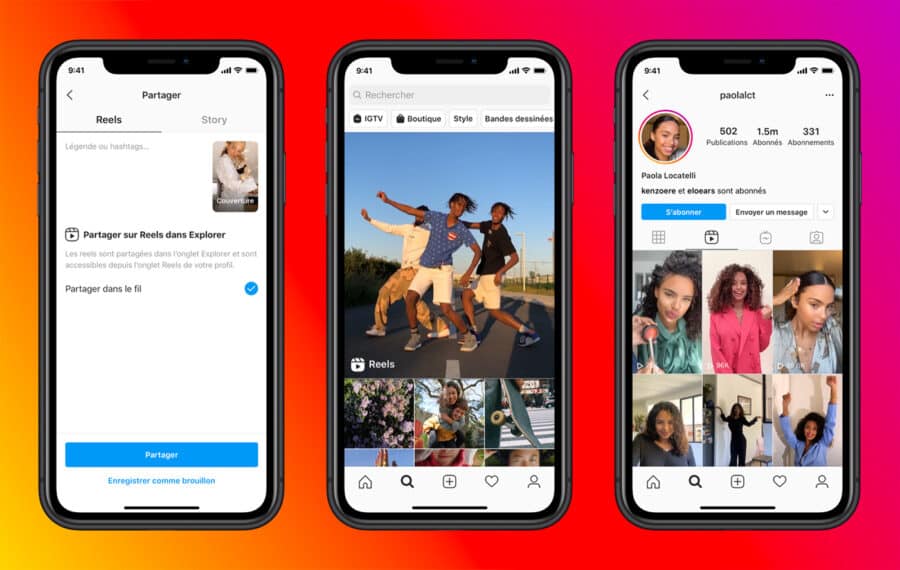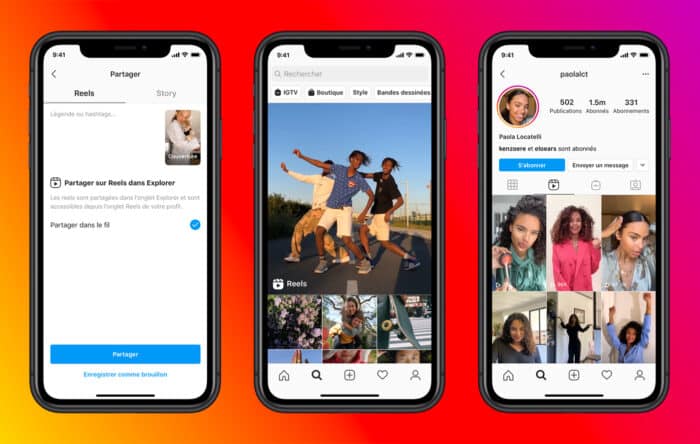 Good practices to increase your reach using Instagram Reels
Short videos are a very good way of expanding and retaining your audience. Follow these simple tips to integrate Reels into your Instagram strategy.
Be creative with all available tools
There are countless tools and effects available to enrich your Reels: text, speed variations, soundtracks, transitions… to create an appealing and original reel, let your creative juices flow with the effects at your disposal! Like on TikTok, the choice of the soundtrack is particularly important because it sets the tone of your video, and allows you to choose sounds that are currently trending.
When you're starting out, it's sometimes difficult to know how best to use all these options. Although originality is still highly recommended, Instagram Reels all follow certain rules which determine their success. You can therefore take inspiration from the material created by trending Influencers in your field.
Create entertaining content
To capture users' attention and create engagement, Reels must be entertaining: surprise, originality, and humour are key elements for success. Of course, depending on your brand identity, the nature of the entertainment may vary.
Storytelling is highly recommended to keep your audience on tenterhooks. Users enjoy being able to identify with an Instagram account via anecdotes or life stories. You can also take part in challenges or create one of your own. Challenges make for amusing Reels that spread very rapidly on Instagram and make it possible to showcase a brand or product. Also, feel free to use transitions and sound effects to give your video greater intensity!
Create educational content
Educative Reels are another kind of content that works very well on Instagram. Users are particularly fond of tips and useful advice on a variety of themes, from sports, cooking, and decoration, to lifestyle, health, and beauty… all these areas lend themselves very well to the creation of educational content! The idea is to create a video that is all at once clear, useful, and attractive, combining education and entertainment – for instance, a DIY tutorial or a mouthwatering cooking recipe. To create an educational reel with a high engagement rate, you first have to learn to know your target audience, their habits, and issues that affect them.
Use stickers to generate engagement
As with stories, Instagram lets you integrate stickers to Reels to encourage engagement: rewinding, votes, quizzes, surveys… These stickers constitute a very good way of interacting with your audience, measuring its engagement, and asking direct questions.
Use relevant hashtags
To be visible in users' feeds and Explore tabs, it's useful to use relevant hashtags, just as you certainly already do in regular posts and stories. These hashtags make it possible to maximise the reach of your Reels and to target one audience in particular within a wide or more specific theme. A good hashtag strategy is to combine popular hashtags with a high volume of posts and views with more specific hashtags to concentrate on a particular niche.
Create Reel ads
Brands can also create ads in the form of Reels which function in the same way as non-advertising reels: soundtrack, animations, full screen display, and a length of up to 90 seconds. These ads present the advantage of being interactive since users can like, comment, and share them. Ad Reels are a good way of using viral potential to touch a wider-reaching audience and showcase your brand, while benefiting from the precision of targeted advertising.