TikTok has revolutionized the social media market with an unprecedented vertical video format.
The platform very quickly understood the needs and desires of consumers by providing them with a unique solution, particularly for young people and the generation Z .
In just a few years, the application has brought together more than a billion people.
It is now the 2nd most downloaded application in the world in 2022.
Besides, TikTok is not just an entertainment platform, more and more users are getting into creating video content.
In fact, it is close to 83% of users who have posted at least once on the platform.
With its powerful algorithm, TikTok allows users to enjoy unprecedented organic visibility.
Why do video editing on TikTok?
One of the keys to success on TikTok is video quality and editing .
In effect, mounting is a crucial element for creating TikTok videos, as it helps to make the content more interesting and captivating for the users.
Editing is the art of combining different takes of video, audio, images and effects to tell a story.
It allows content creators to bring their ideas to life.
Editing techniques such as smooth transitions, slow motion, fast motion, visual effects, overlays, added music and sound effects help increase watch time of videos.
Users will be more likely to watch a video to the end if it is edited well and this will increase user engagement.
One of the key factors for a successful TikTok video is when users watch a video until the end, this is called "the completion rate" .
The higher the share of viewers who watched the video to the end, the more the video will be recommended to other users.
So here's our step-by-step guide to success. your video editing on TikTok in 2023.
This tutorial is aimed at both beginners and amateurs with an iPhone/iPad or an Android smartphone.
The application interface remains the same regardless of the type of device.
Note that the editing software integrated into TikTok is quite intuitive and easy to learn.
The interface is very similar to the one that can be found on the Capcut flagship application.
TikTok Video Editing: How to Create a Video on TikTok?
To save a video on TikTok, click on the button + in the center of the application's main menu.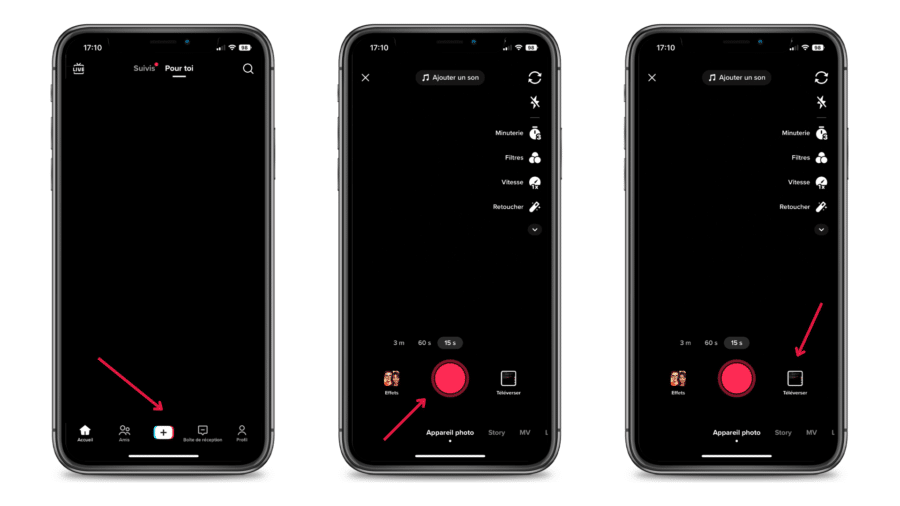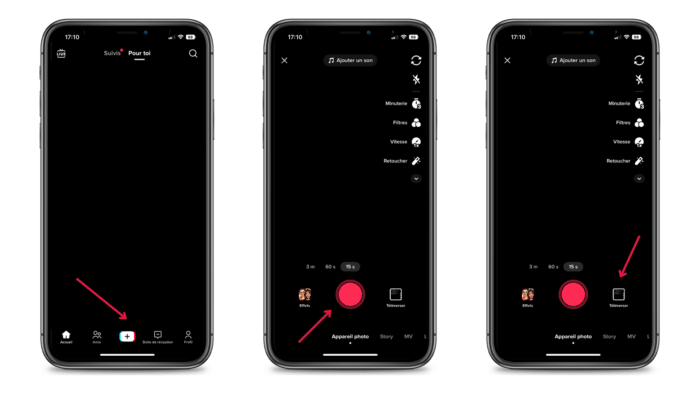 Then, 2 solutions are available to you:
Record and shoot your video directly from the app
Upload video from camera roll
If you choose to shoot your video in the TikTok app, you can set the recording time beforehand.
You have the choice between a 15 second, 1 minute or 3 minute video.
If you upload a video from your device, you can upload a video of up to 10 minutes (TikTok is trying to compete Youtube on long format ).
Before starting the recording, you have access to various tools on the right such as:
Flash activation for better brightness
Setting up a 3 or 10 second timer
Adding filters
Video recording speed
Video retouching (smooth face, white teeth, etc.)
TikTok video editing: The different editing tools
Once your video is recorded, you arrive on the editing interface post production .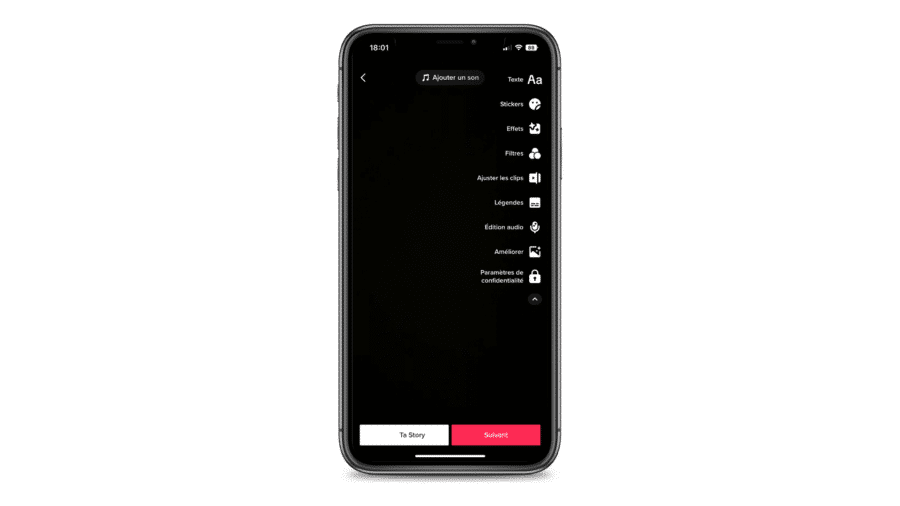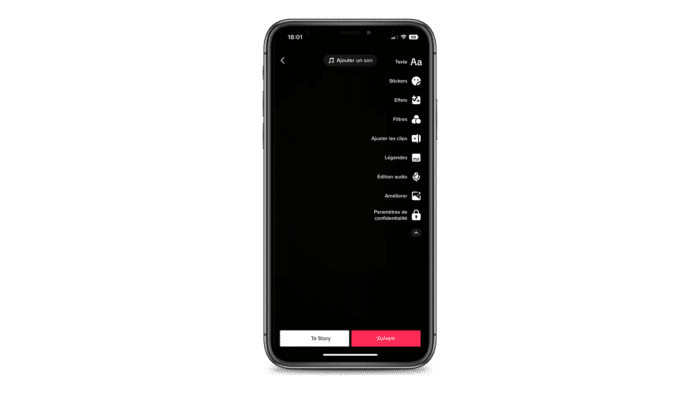 First, you have different tools to make your TikTok video editing in a simple way (on the right tab).
This interface is pretty basic, so you won't be able to trim and edit your footage directly.
AutoCut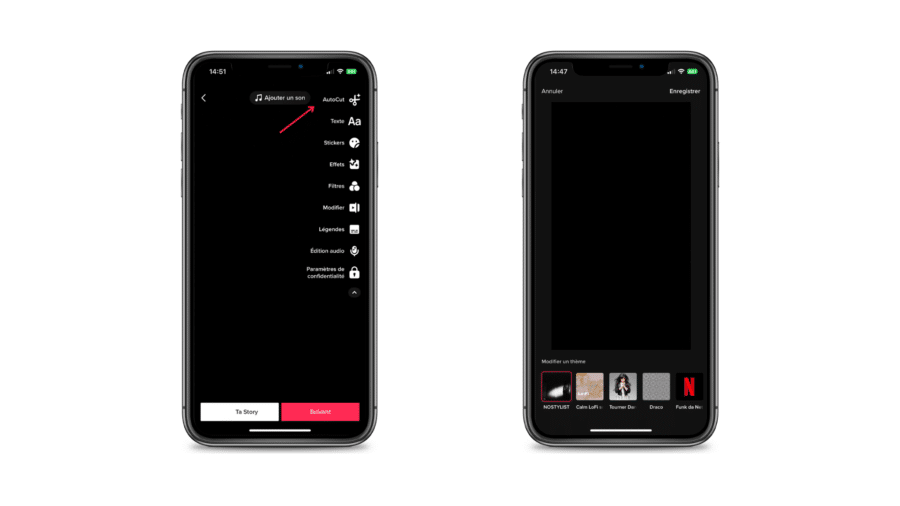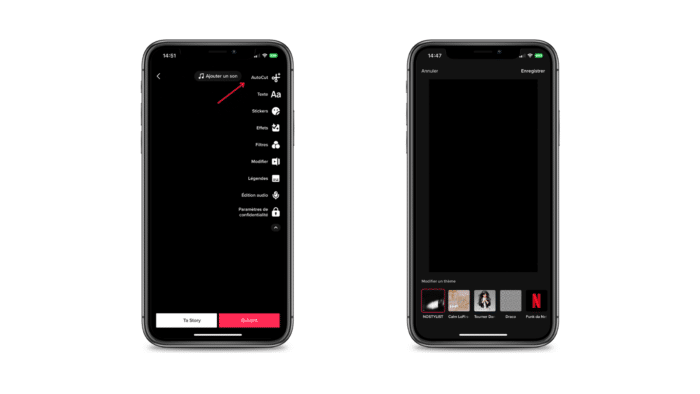 Functionality AutoCut lets TikTok take care of editing your clips automatically.
It then generates the montage for you by adding filters and special effects that you can modify according to different themes.
We don't recommend using this feature, it's best to edit your video yourself and let your creativity do the talking.
The text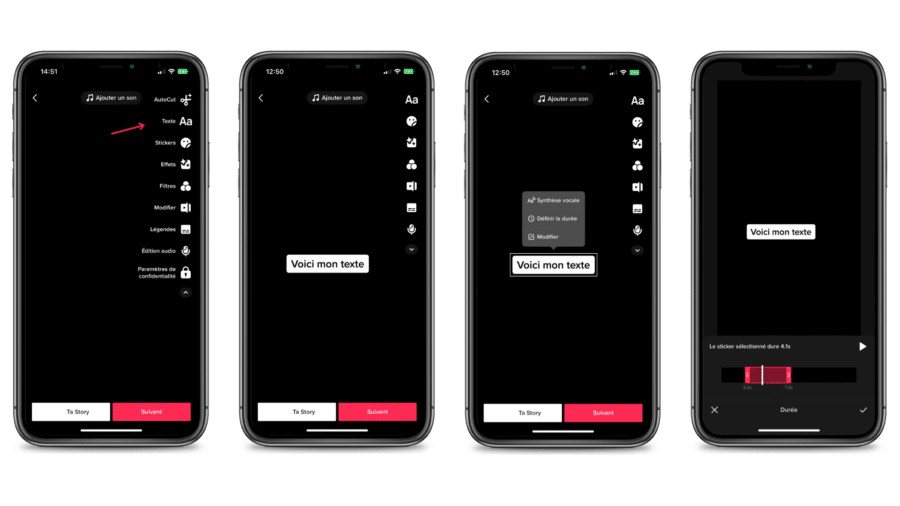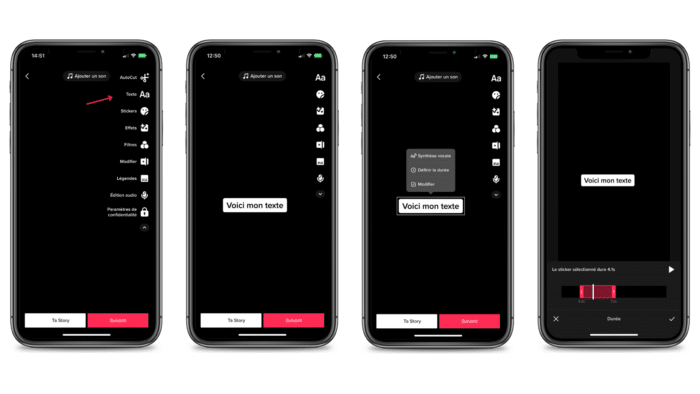 You can add text cartridges and place them on your TikTok video.
You have the option to change the text typography, colors and alignment.
A voice synthesis option allows your text to be read automatically by voice.
Finally, you can adjust the duration of appearance of your text by clicking on "Set Duration" .
To delete a text, drag the text upwards, you will see a trash can appear.
The stickers
You can add stickers to your video by selecting the tool "Decals" .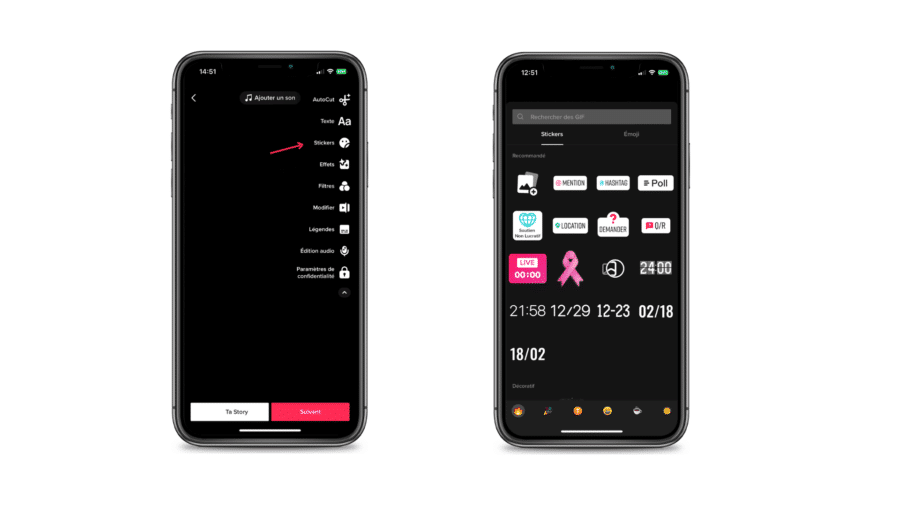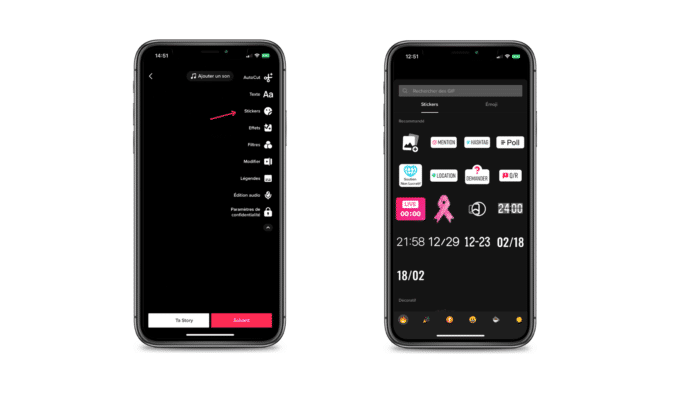 The effects
You can add effects to your video by choosing the tool "Effects" .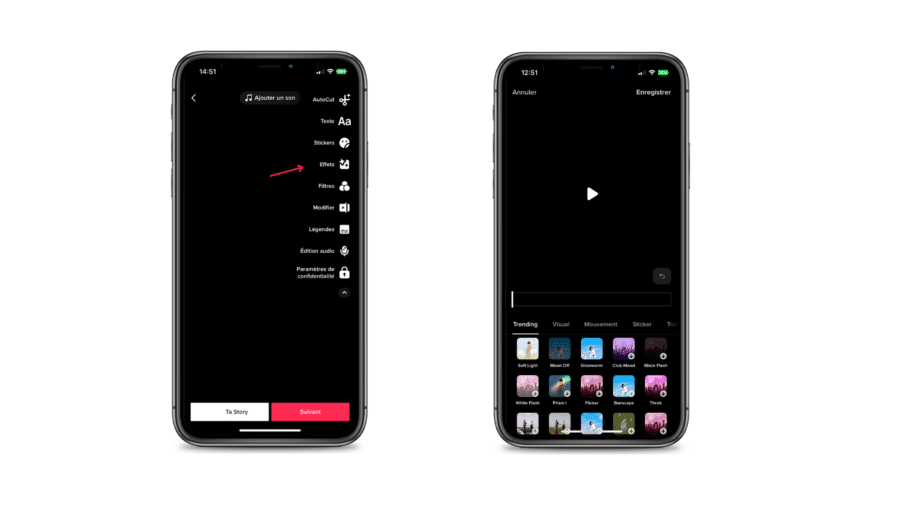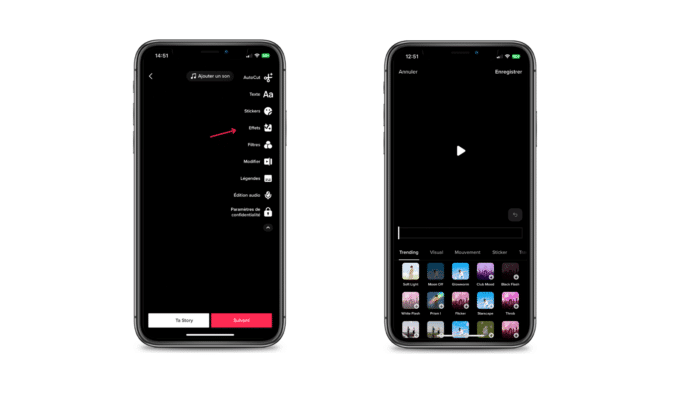 Filters
The filters tab allows you to add filters to your video.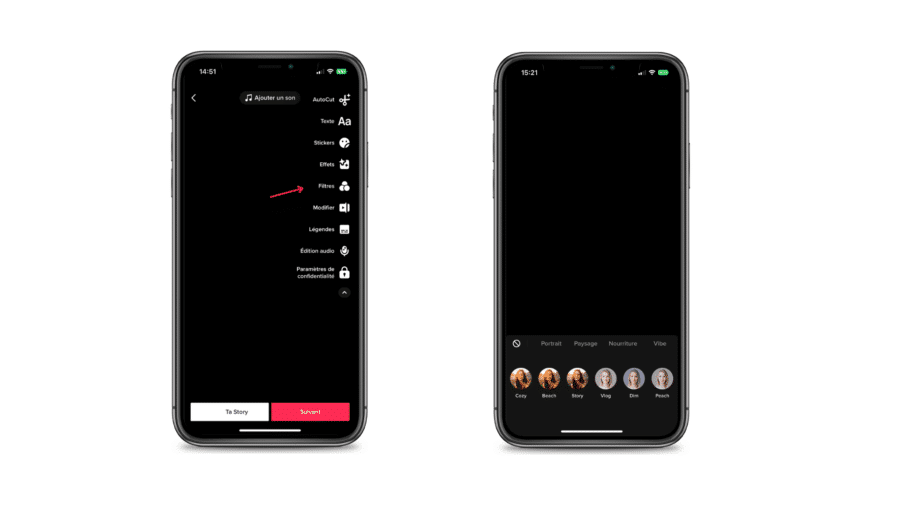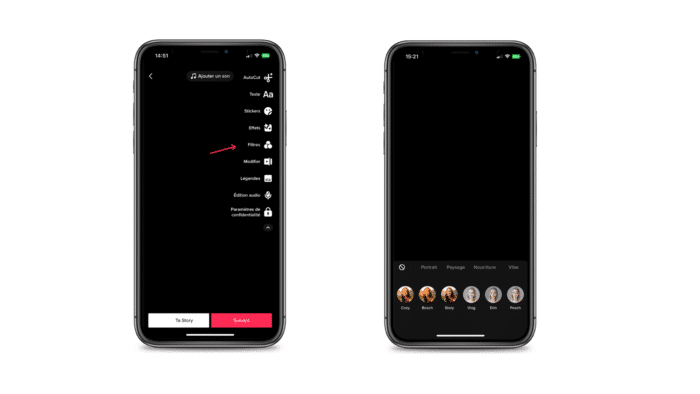 Legends
The tool "Legends" automatically generates subtitles for your videos based on the chosen language.
You can then modify their style (color, size).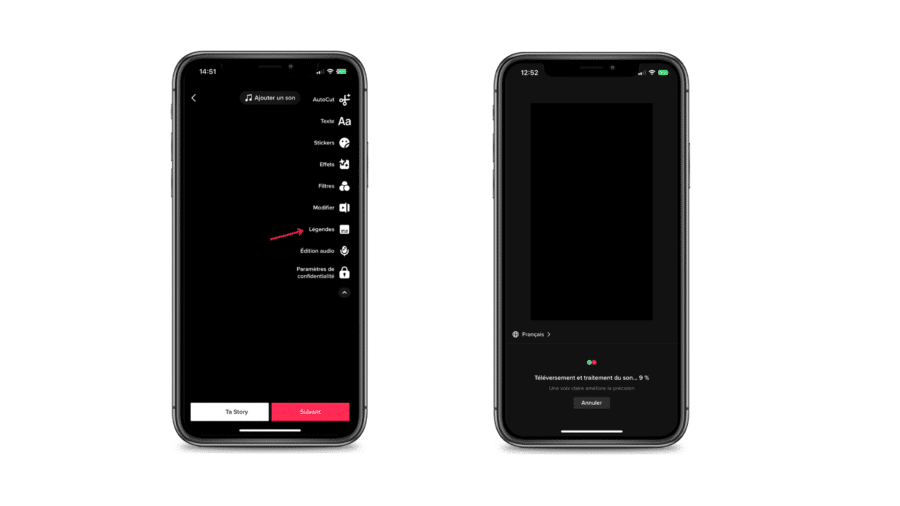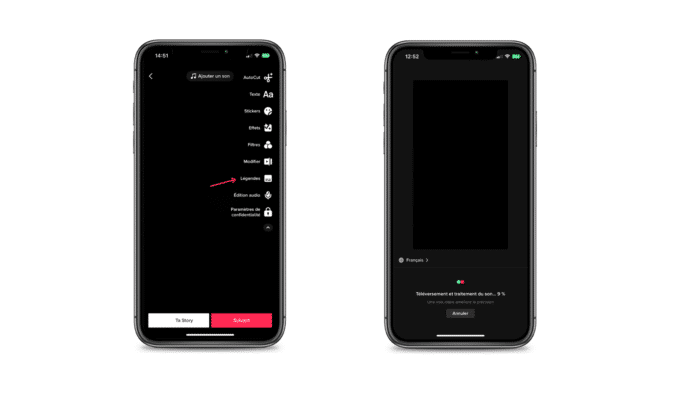 audio editing
The audio editing tool can come in really handy if you want to generate voiceovers in the background of your TikTok video.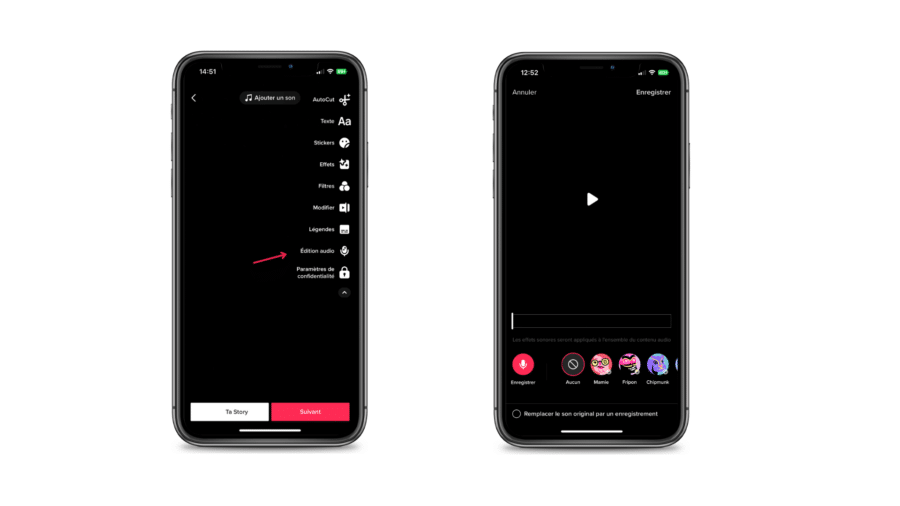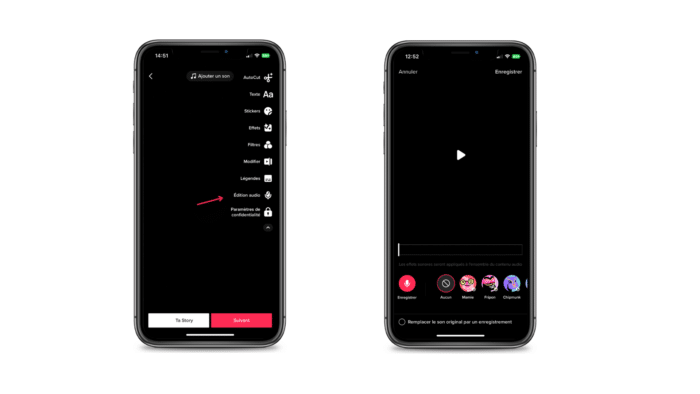 Audio editing also lets you add sound effects and sound effects to flesh out your video.
The sound editing captures the viewers' attention.
TikTok video editing: The editing interface
We have seen the different basic options of TikTok video editing .
But you can go even further by choosing the tab "Edit" .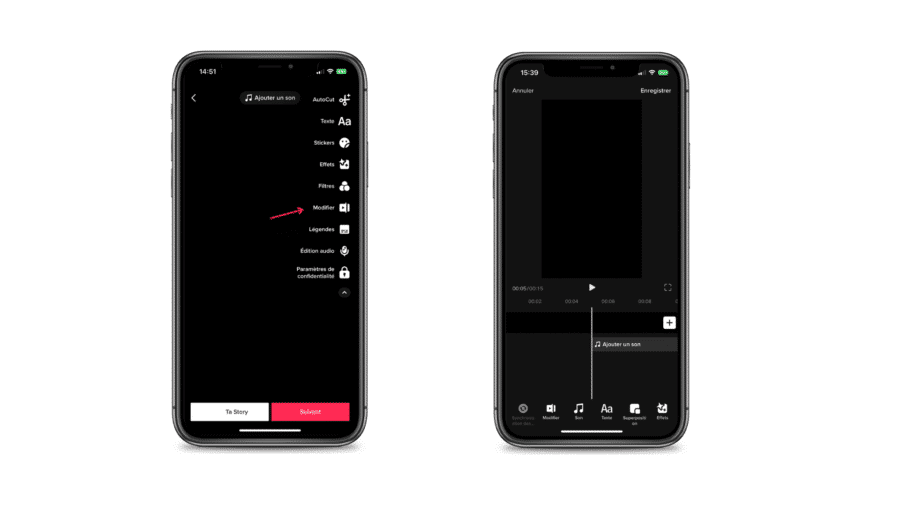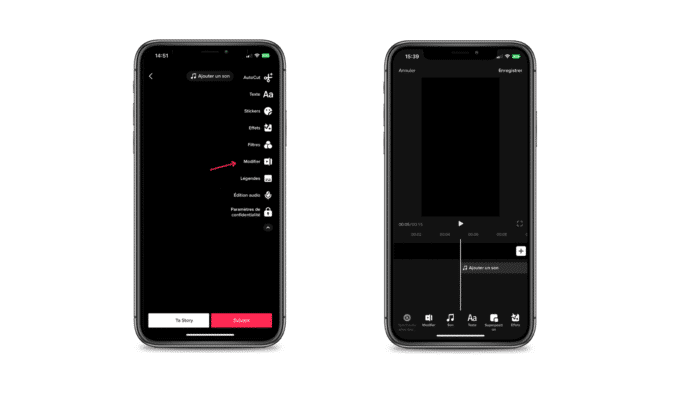 You then arrive on a new interface, this is where you will do all of your TikTok video editing .
This interface includes the tools that we have seen previously.
TikTok Video Editing: Edit Clips
First, let's start with editing your dailies.
There timeline groups all the clips chronologically and according to the order they were imported.
You can edit, trim and shorten all of your clips.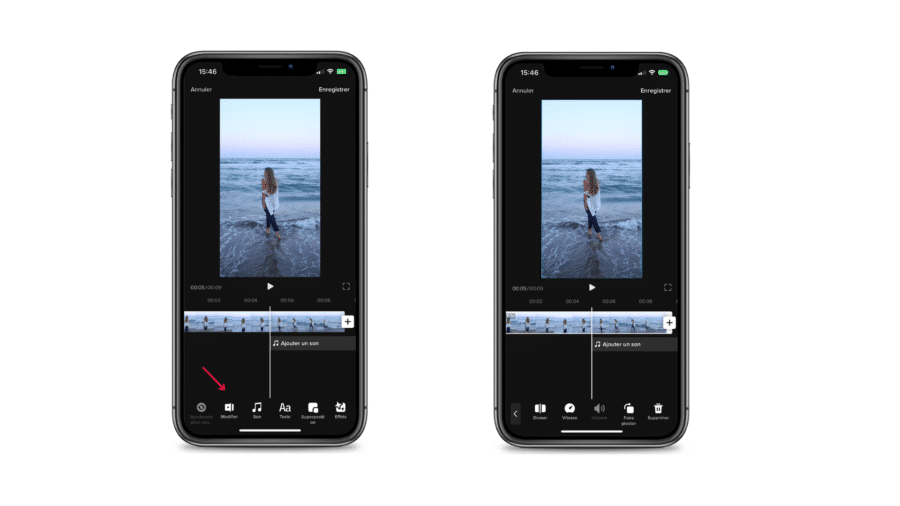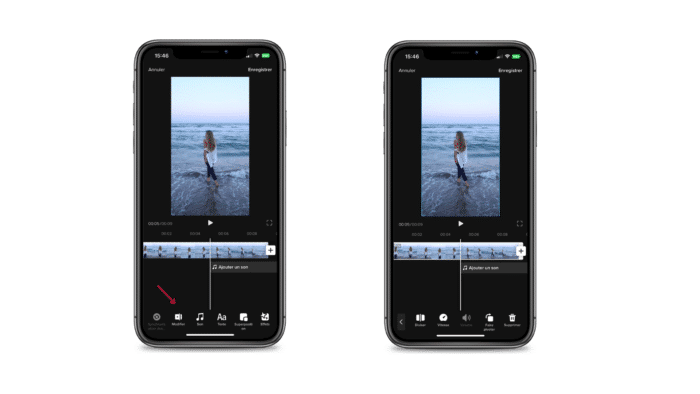 To shorten the beginning or end of your video, just drag the ends of your video to the right or left.
To trim part of the video select "Edit" in the bottom menu.
You then have access to various tools:
Divide: It allows you to cut your video and to generate several sequences
Speed: Allows you to manage the speed of one or more rushes
Volume: Mute or increase the sound of certain clips
Delete: Allows you to delete part of your trimmed video
You can also add another video following your recording by clicking on the button + located on the right.
TikTok Video Editing: Add Sound Effects
To modify sound select the option "Her" .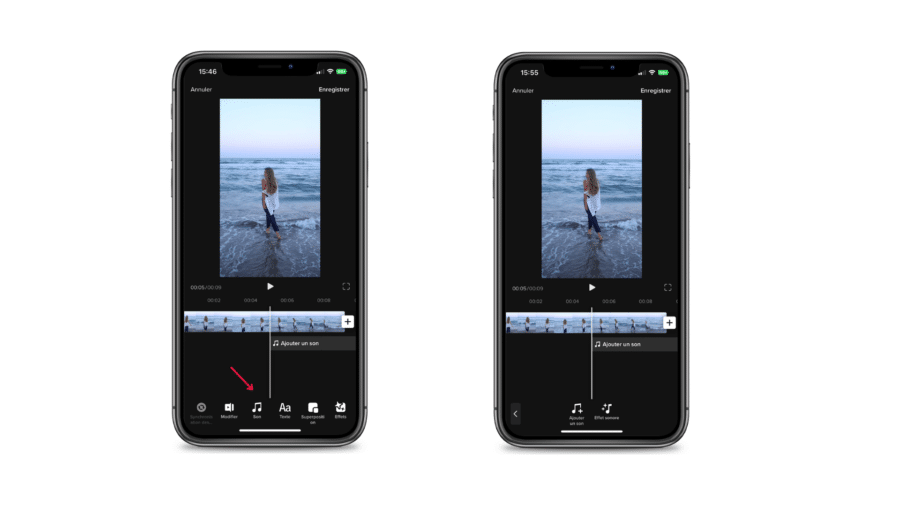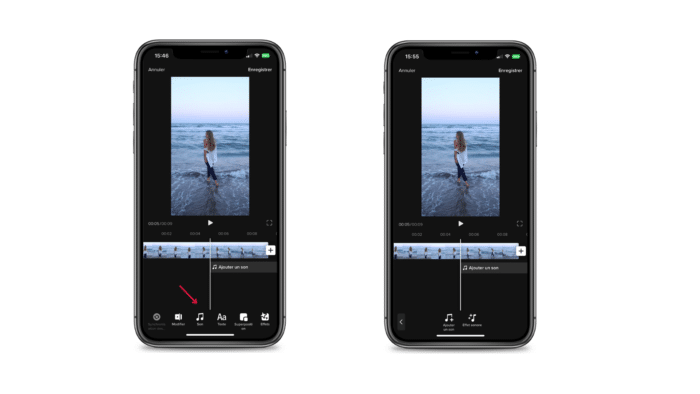 You can do exactly the same as what we have above (voiceover, effects, sound effects, audio tracks).
TikTok Video Editing: Add Text
As seen previously, you can add text from this editing interface.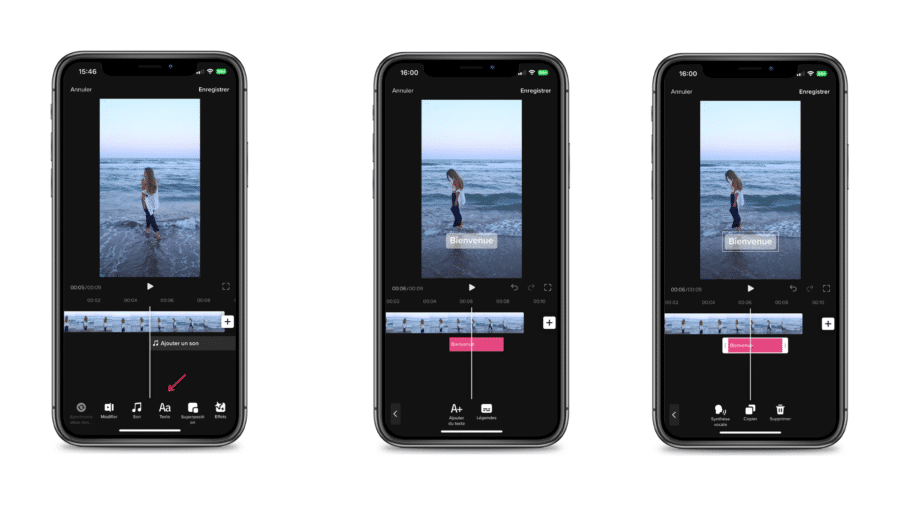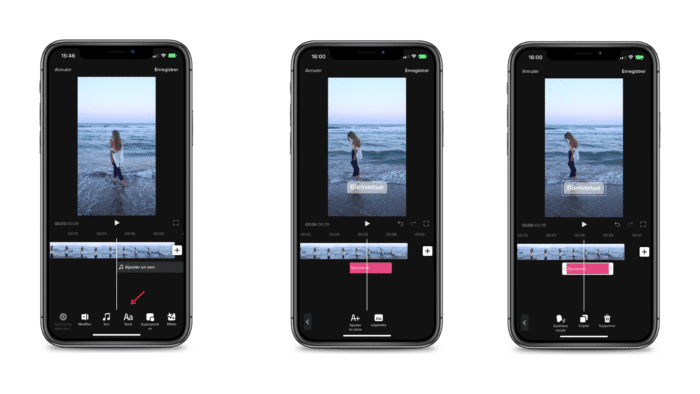 Click on "Text" then add your text or generate automatic subtitles.
Generating captions is highly recommended as many viewers watch TikTok videos without sound.
We also advise you to insert keywords related to your niche in your texts and subtitles.
This improves the referencing of the video to your target.
You can then manage the display duration of the text on the timeline by dragging the ends of the text block to the right or left.
TikTok Video Editing: Add Overlay
The overlay option lets you add one video on top of another.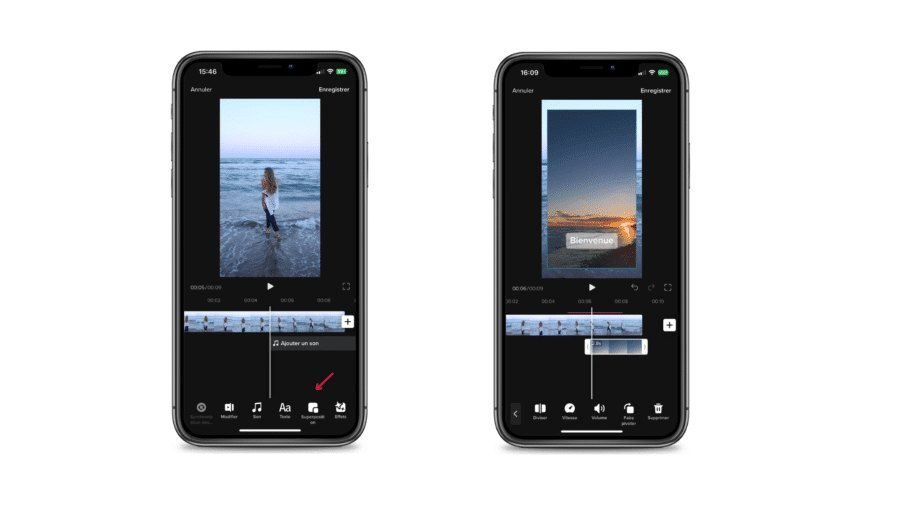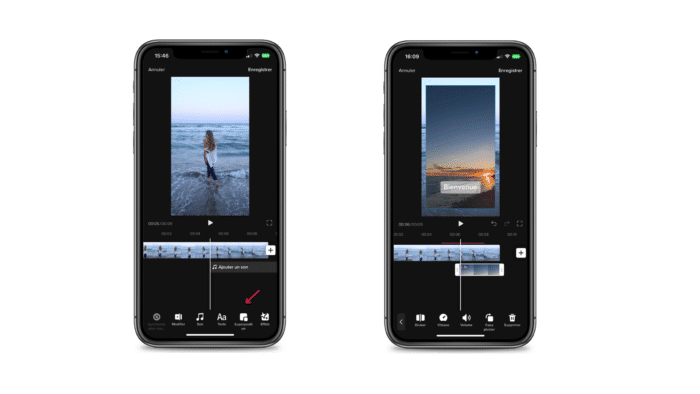 As for the texts, you can modify the time of the overlay as well as its width on the screen.
TikTok Video Editing: Add Effects
You can add effects from this interface by selecting the option "Effects" .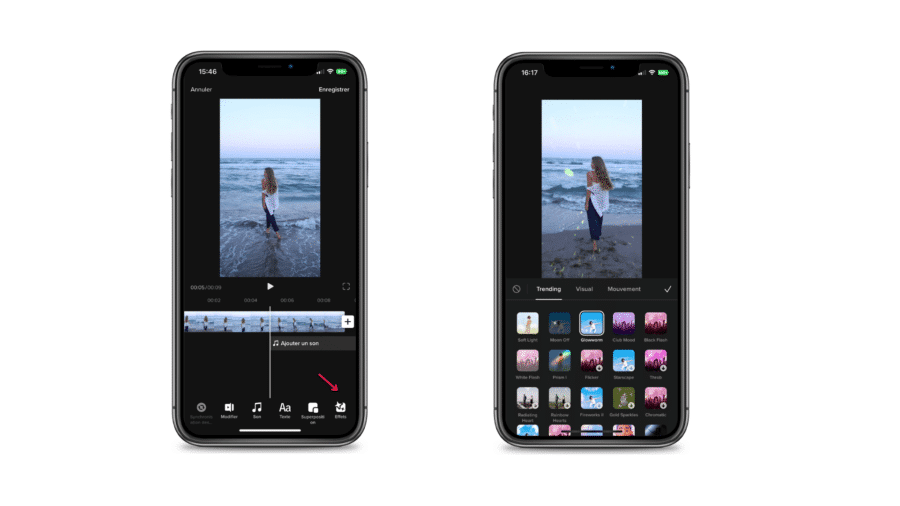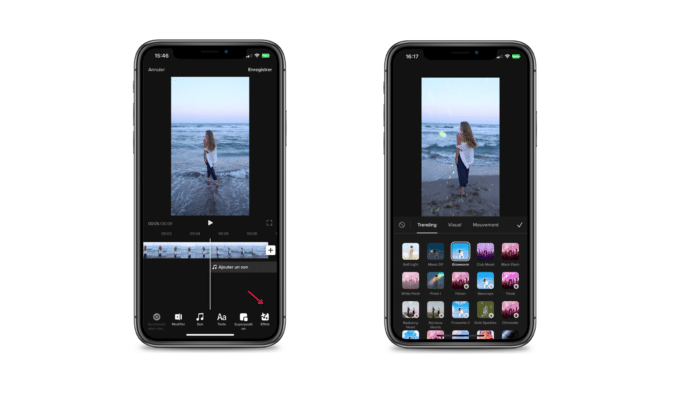 The management of the duration of the effect is also possible from the timeline .
TikTok video editing: Add music
To add music to your video, you can use the option "Synchronization of sounds" .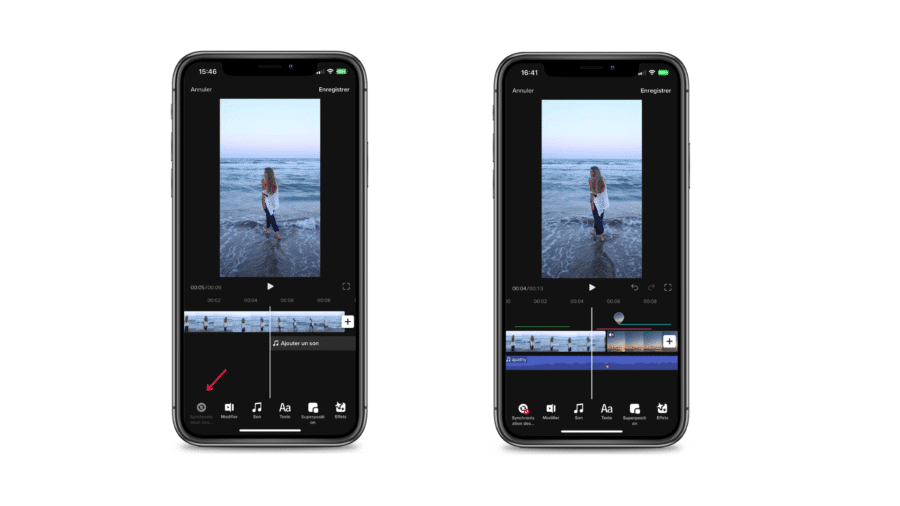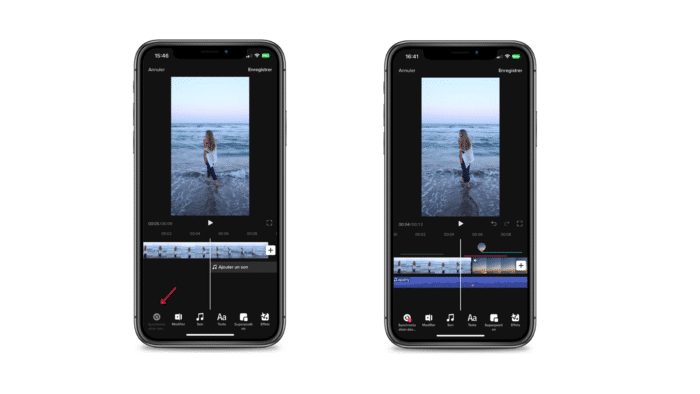 This option allows you to generate music that adapts to your clips.
But there is a more practical solution, in particular for finding trendy sounds.
Indeed, music is a key part of the TikTok app.
It can be used to give tone and mood to a video, and can help make it more entertaining.
But it is especially the trending sounds that make it easier for you to reach the page "For you" and make your video go viral.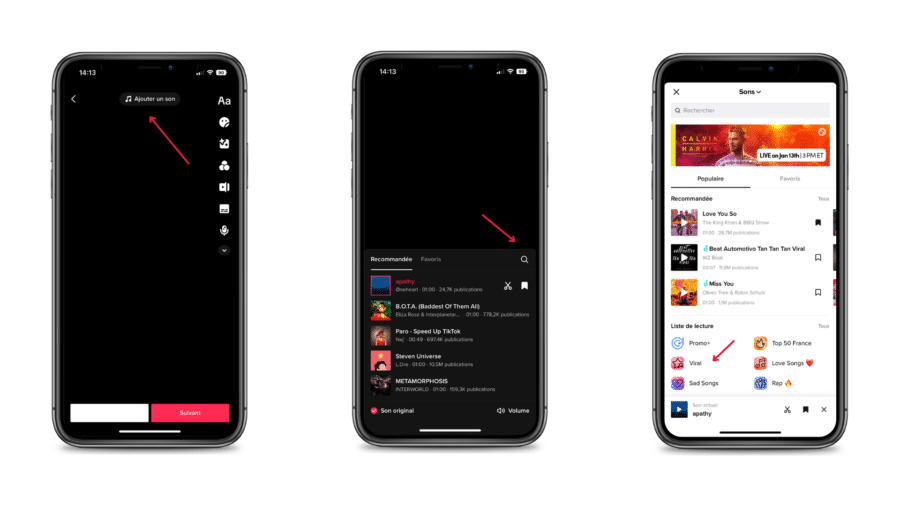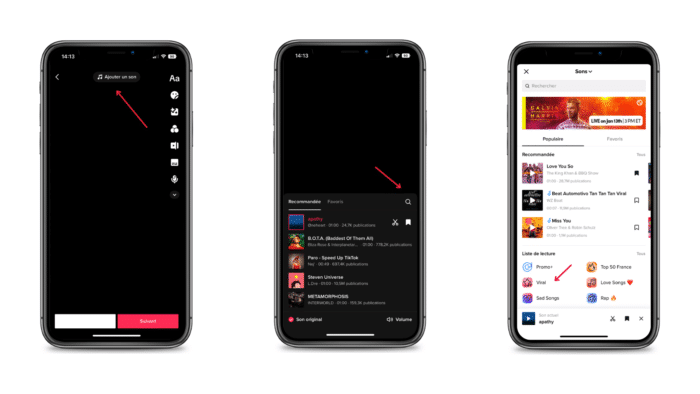 Click at the top of your video "Add sound" , then go to the tab "Research" then select the trending sound of your choice.
TikTok Video Editing: Publish Your Video
Once your assembly is finished, click on the button "Following" and skip to the optimization part before publishing.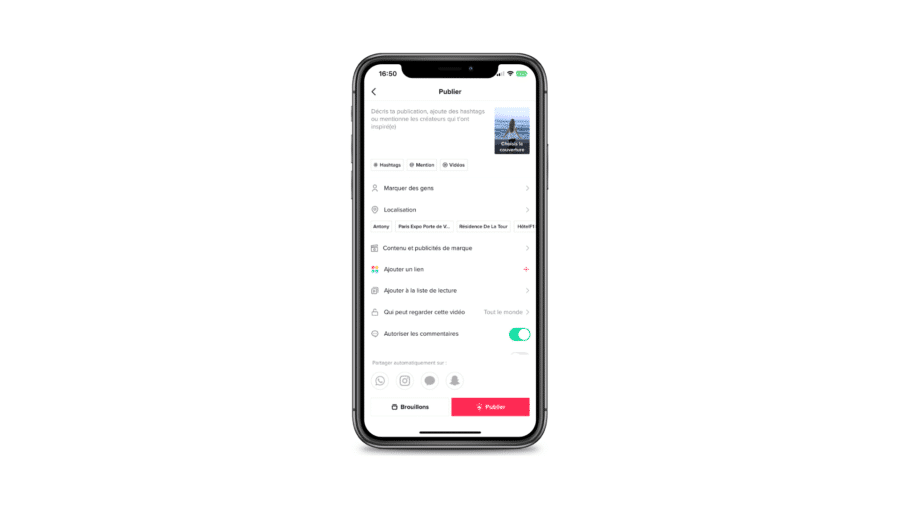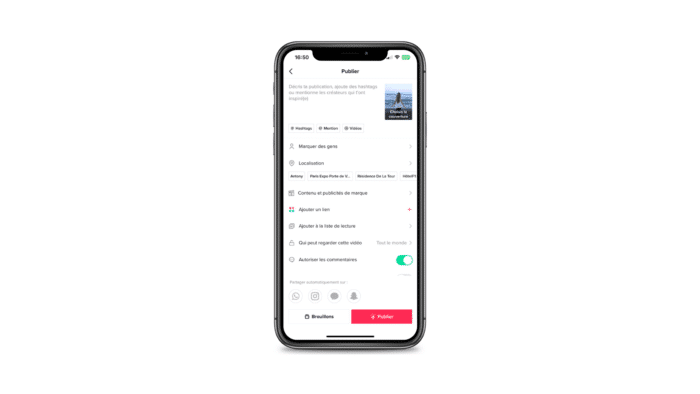 Here you can write a description for your video up to 2200 characters.
We advise you to write a complete description by including the keywords of your niche to reach your target and thus reference your video as it should.
Add the most relevant hashtags in your industry.
Trick : Make a mix of very popular hashtags and very niche hashtags.
You can also mention other users or link to other videos.
Another very recent feature has appeared "the localisation" .
Convenient for videos of discovery of places or restaurants.
Before posting, you can choose who can see the video (private, for your followers or for everyone), allow or not allow comments, duets and collages.
Do you want to create professional videos for your brand?
Neads accompanies you in the creation of your videos on social networks ( TikTok , instagram , Snapchat ).