In recent years, the famous Snapchat app has launched several models of connected glasses that they call Spectacles. Its latest model, Spectacles 4, is based on state-of-the-art augmented reality technology For the moment, Spectacles 4 are not yet available for sale; only content creators using Lens Studio can take advantage of them.
What are Snapchat Spectacles?
Snapchat launched its first model of connected glasses in 2016, the Spectacles. This first version allowed you to take photos with a simple tap on the frame, then send them to your smartphone via WiFi, and share them on the app. This idea of having ??a camera integrated into a pair of glasses was a continuation of the prototype presented by Google, the Google Glass. These were never released in France, for reasons of potential invasion of privacy.
From camera glasses to augmented reality devices
The first two versions of Spectacles fulfilled the same objective: to capture photos and videos from a pair of glasses, to then share them on Snapchat.
After a few years of experimentation, the project took a different direction, with augmented reality in sight. In 2019, Snapchat launched a new generation of connected glasses, the Spectacles 3, allowing users not only to film and take photos in 2D and 3D, but also to add augmented reality effects. Spectacles 3 are still on sale today, and their main objective is "to allow users to share their own vision of the world". With this design, a long press on the hinges of the frames allows you to take a photo, and a short press to start a video recording. Then, the images can be shared via Snapchat on your smartphone, or customised with augmented reality effects.
While the Spectacles 3 do not allow real-time augmented reality to be displayed, this novelty is enabled by the Spectacles 4, released in 2021. More technical, the Spectacles 4 are based on the Lens Studio software, which allows developers and artists to create augmented reality experiences.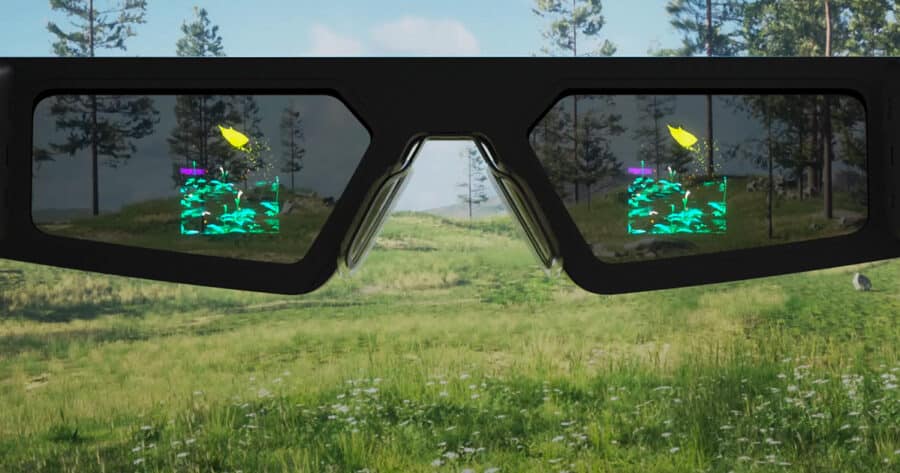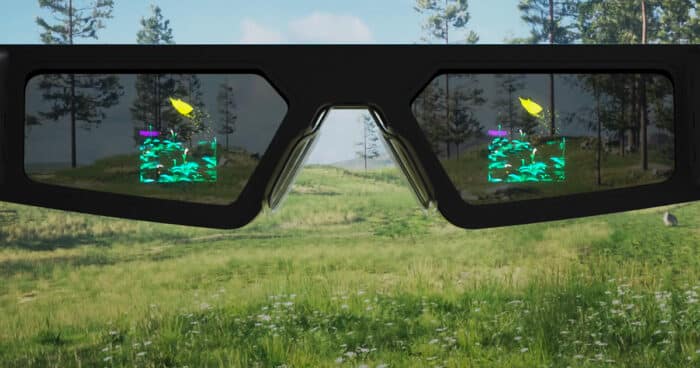 Connected glasses that stand out for their style
With the launch of its first version of connected glasses, Snap was aimed primarily at a young audience: 18-35-year-olds. At the time, this age group made up more than two thirds of its user base. So, to appeal to this audience, the Spectacles had to be designed with particular attention to aesthetics and appearance.
In 2016, the benchmark for connected glasses was the Google Glass model, whose futuristic style might fit in more in a sci-fi film than on a day out with friends. Snapchat decided to take no chances when it came to elegance and style, and bought Vergence Labs, an already-established manufacturer of stylish connected glasses. The company also hired designer Lauryn Morris, known for designing Michael Kors sunglasses.
The result was worthy of the means employed. Indeed, the Snapchat Spectacles look just like high-end sunglasses, meaning they fit in in all circumstances. Evan Spiegel, Snap Inc CEO, even posed with the first Spectacles to promote them to the public.
This emphasis on design mainly concerns the first three versions of the connected glasses. The advanced technology employed for the Spectacles 4 compelled Snap to produce a more understated and less whimsical model. That said, the Spectacles 4 remain discreet and adaptable to all styles, although they're not yet on general sale.
Who are Snapchat Spectacles for?
The first Spectacles intended for the general public
In 2016, Snap Inc entered the connected glasses market with a vision for the general public. The objective was to allow users, mostly young, to share their experiences via fun, stylish, and easy-to-use technology.
First hitting the market across the pond in 2016, the Spectacles arrived in Europe in 2017. They were available for sale online, and could also be found in pop-up stores called Snapbots in major cities. Despite the quite affordable price of €149.99 and the choice between three colours, Snap's connected glasses just haven't been as successful as expected.
Spectacles 3 are still on sale on the official website. They're available in two colours, Carbon (black) and Mineral (pink). The €370 price point is more prohibitive than previous models, but the Spectacles 3 are still intended for general public use.
Spectacles 4: cutting-edge technology for AR content creators
Spectacles 4 stand out from other versions of Snap connected glasses, as they're the first in the range to offer a real-time augmented reality experience. They're not yet available for sale. Currently, these "smart glasses" are reserved for developers and augmented reality artists around the world who are experimenting with the Lens Studio software.
With Spectacles 4, Snap seems to be continuing where the Google Glass project left off, the only difference being that the content is displayed in the lenses and there's no camera built in to the frame. It represents a real technological advance, but which still requires some development before opening to a wider audience. For example, the Spectacles 4 are still quite heavy, weighing in at 134g compared to 30g on average for a pair of normal glasses. The field of vision that hosts the virtual elements is also rather reduced, only 26.3° diagonally.
Snapchat Spectacles features
There are two Spectacles designs, one intended for the general public and the other aimed at creators, and their characteristics reflect these different audiences.
Spectacles 3 Features
Here's the main technical spec of the 3rd Spectacles version, which went on sale in 2019:
Weight: 56.5g
Price: 370€
2 colours available: Mineral and Carbon
4 GB flash memory
2D field of vision: 105°
3D field of vision: 86°
Compatible with iOS
Integrated GPS and GLONASS
Audio: 4 microphones
Ability to shoot and transfer up to 70 videos with a full charge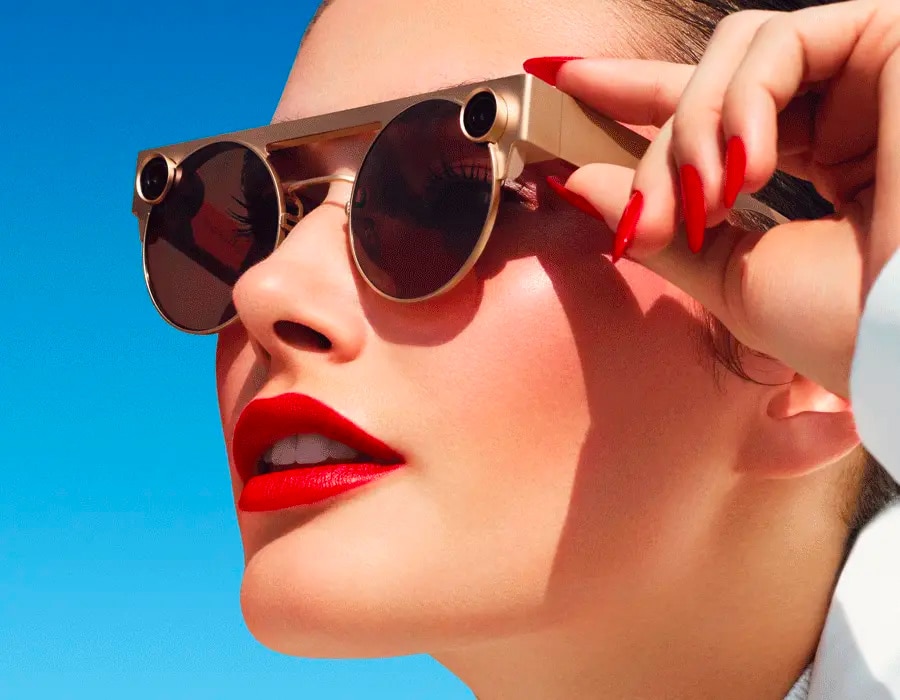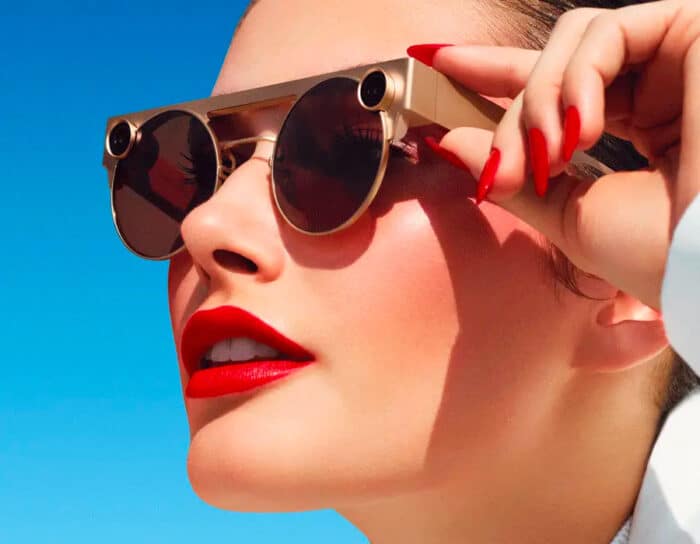 Spectacles 4 Features
The features of the newest model, the Spectacles 4, are as follows:
Field of vision in augmented reality: 26.3°
Weight: 134g
Battery: 30 minutes' autonomy
USB connectors
Microphone
Internal speakers
2 RGB built-in cameras
32 GB usable memory (about 1200 photos or 100 videos)
Snapdragon XR1 processor
Inside-out tracking
Bright screen that adapts to the light
iOS compatibility
It's difficult to compare both versions since they're designed for two different markets. For the moment, Spectacles 4 should be considered as a technological innovation that allow us to explore the possibilities of augmented reality.